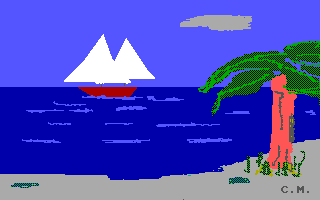 3248 Elwood Drive ........... Racine, WI 53406
Call our cell at 847-338-8808

2005 Hunter 466LE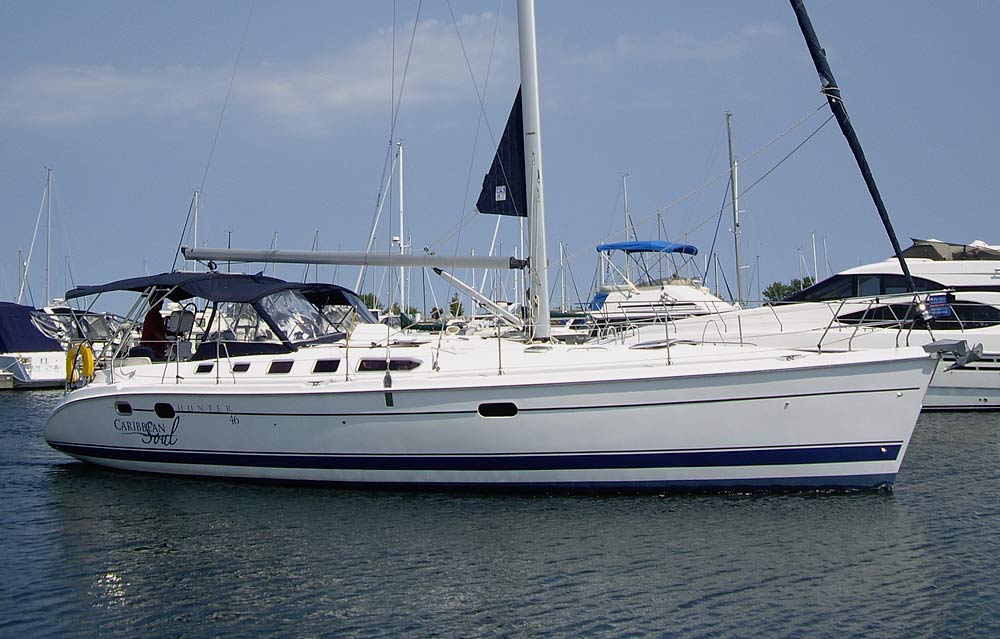 This beautiful yacht has been meticulously maintained and equipped for that long cruise that we all dream about. Lots of upgrades, and then suddenly their plans changed and someone else will be lucky enough to make the trip of a lifetime. Great liveaboard, with a great layout and equipment. Three staterooms, and two heads. LOTS of storage, and one of the best galley layouts that you will ever see.
Brand new generator, installed just weeks before the boat went on the market. Reverse Cycle heat and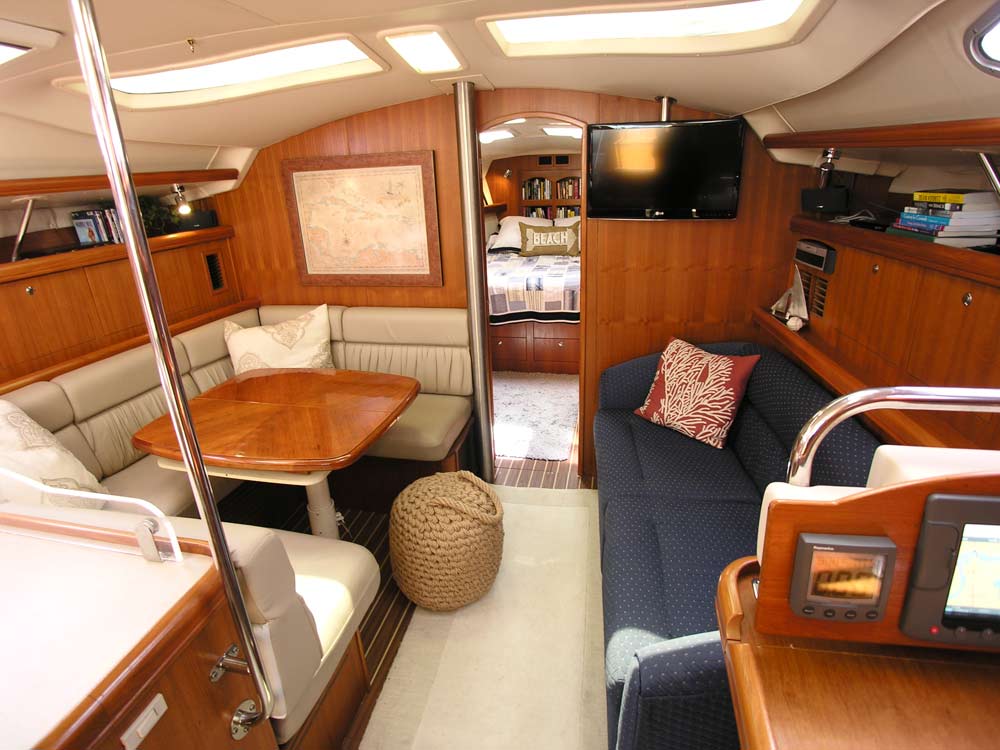 air conditioning with zones throughout the boat. Great canvas, dinghy davits ... all new.
The first things that you notice as you go below is the warm, lush woodwork, then the light and the headroom. As you enter down the companionway, the salon stretches out in front of you. And you catch a tantalizing glimpse of the Master Stateroom in the forward part of the boat ..... but first the gallery is to port.
Located at the base of the companionway, the galley wraps around to port. Huge front opening refrigerator and seperate deep freeze. Lots of counter space, something that so many galleys don't seem to have. With the centerline double S.S. sink for safety and convenience, gimballed propane stove with oven and balanced oven door, this galley is made to love and use in any sea state. The cabinets have customizable storage, and glass doors with lights that add convenience and ambience. There are opening ports and hatches, and the chef is right in the heart of the boat.
Moving forward next is the spacious salon. Along the port side, next is the U-shaped dinette. Huge, comfortable in a light tan leatherette ... so comfortable, usable and easy to keep up. The table is made of beautiful wood, with slide out leaves for even more room for entertaining. Across to starboard is a comfortable settee. Along both side are built-in cabinets with lots of storage. More storage under the settee.
The batteries, the water tanks, and all heavy storage is in easily accessible compartments under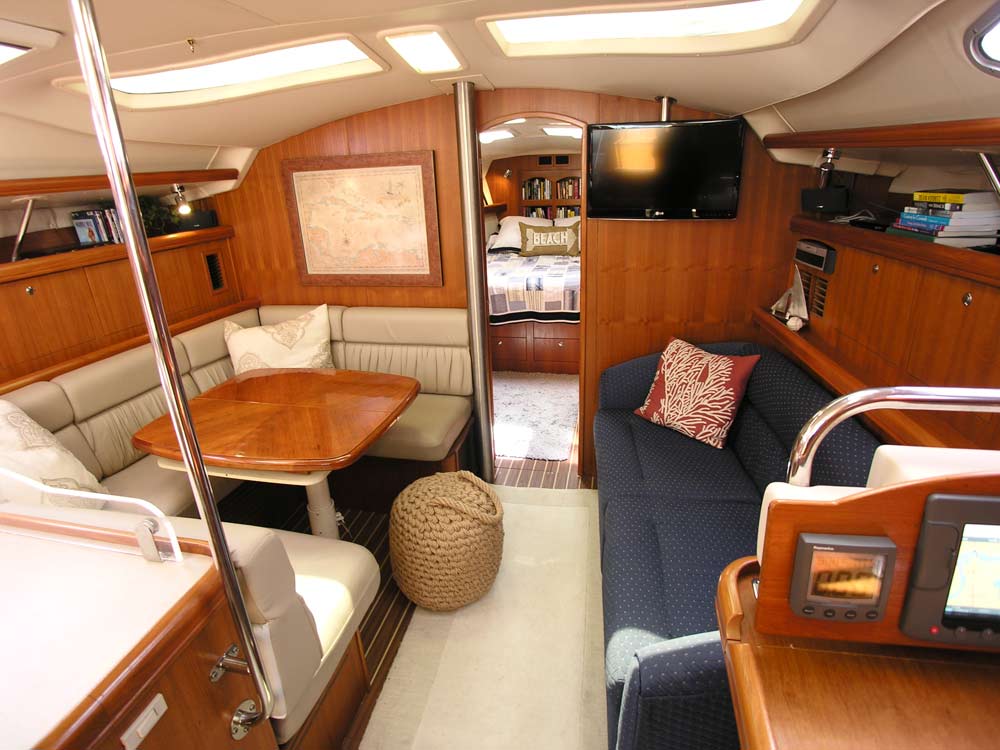 the floor. This design puts the weight where you want it, and give great access when you want it.
The master stateroom is forward, and is everything you could wish for. With a generous centerline berth, each of you can get out of your own side of the bed in the middle of the night (without crawling down to the end, or over your partner). The stateroom
is huge, with lots of storage, plenty of room, and light and air. As you enter, there is a private head to port. And this is just the head. The private shower is across the stateroom to starboard. A great idea. The beautiful bookcase at the head of the berth serves as a focal point for the stateroom and the boat. And the thwartship design, is perfect for access on any angle of heel.
The nav station is also at the base of the companionway, across from the galley. This gives great access and allows communication between the helm and the navigator when needed. The nav station has ALL of the instrumentation, repeaters and control of everything available at the helm on deck. Color radar and chartplotter, wind, depth and speed. This is also the electrical hub of the boat, with easy access to all of the breakers and panels.
Aft of the nav station is the second head. This head has both private access from the second stateroom, and guest access from the salon. The head has both the "head section" and a separate shower section for ease of cleaning.
Aft of the head to starboard, and aft of the galley to port are the two guest staterooms. Both feature large double berths, hanging lockers and room for dressing and "hanging out".
Features at-a-glance

LOD .................... 46' 0"

Beam .................... 14' 0"

Draft ...................... 5' 6"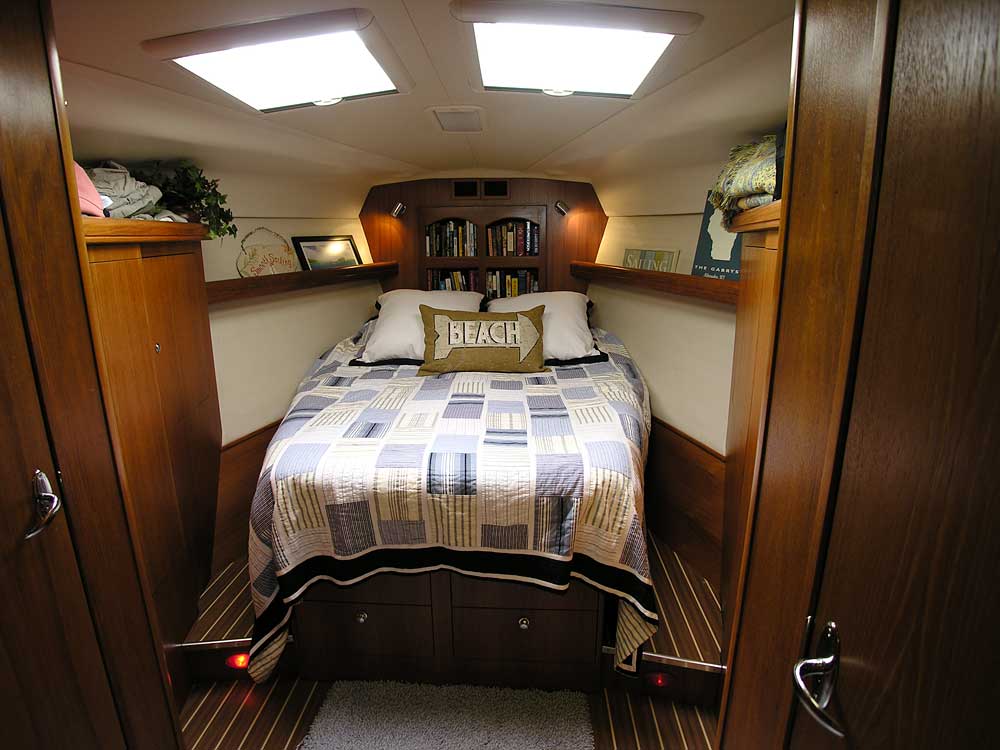 Displ .......... 28,000 # approx.

Ballast ........ 9,500 # approx.

Electronics

Raymarine Navigation Electronic Suite Installed 2005

ST7001 Smartpilot Controller;

Color Raymarine Chartplotter,

Multifunction Display E120 at Helm

E80 at Nav. Station ST60 Depth Instrument

ST60 Speed Instrument

ST60 Wind Instrument

Raymarine Color Radar LG 26 LED/LCD

Flat Screen Television installed June, 2012

Bose 3-2-1 Sound System, Original Equipment (2 speakers plus sub woofer)
B&G Hercules 290 system with repeaters at the helm, gives wind speed and direction, depth sounder with alarms, speed and distance logs.
Hull barrier coat applied May, 2012. Interlux 2000, 3 coats,
Interlux Micron Extra with Biolux, 4 coats.
Kato Marine Dingy Davit System Installed May, 2012 Includes 2 - 6-part blocks for ease of lift.
Lewmar Power Winch in cockpit.
Lewmar Power Windlass with Delta Anchor.
Cockpit rail mounted Magma Gas Grill, Installed 2012.
Full cover Sunbrella Cockpit Canvas by Boat Tailors, Racine Wisconsin.
Helm Station Canvas Cockpit Cover Cockpit cushions, full wrap around.
Lewmar 2-Speed Ocean Series Self Tailing Winches Installed 2005
1-Electric Winch Model 48 2-Manual Winch Model 48
1-Manual Winch Model 44
Lifesling 2 Overboard Rescue System-
West Marine 2010 Throwable Horseshoe Bouyancy Device-
West Marine 2006
2 - 50' Jacklines,
WestMarine 2010 2 - Nylon Harness with 2 Quick Release Teathers-
West Marine 2010 Life Jackets 2 - Coastal Model, Self Inflate,
Mustang Survival Type III, 2006 6 - Coastal Type II, 2006
Assorted Dock Lines, 50' through 20'
Fenders - Taylor Made, Various Purchase Dates 3 - 12" x 34" 3 - 8.5" x 26" 3 - 8" x 20"
Lifting points are all indicated by "SLING" labels on the hull

Sails and Rigging

Easy to sail in any conditions. Furling main and Genoa.
IJPE : 1000.00 sq ft
I : 55.33 ft
J : 17.00 ft
P : 51.42 ft
E : 18.00 ft
Working sail area : 1000.00 sq ft
Furlex roller furling mainsail and foresail,
Original equipment Mainsail, cleaned, stitching inspected and repaired as necessary,
March 2012 the Genoa was professionally cleaned,
Stitching inspected and repaired as necessary, March 2011.
Sail area (100% foretriangle)……………………908.1 sq. ft. 84.4 sq.m
SAIL AREA (ACTUAL W/STANDARD SAILS)…….1155 sq. ft. 81.29 sq.m
I………………………………………………………….55.26 ft. 16.84m
J ………………………………………………………..17.16 ft. 5.23m
P…………………………………………………………50.42 ft. 15.37m
E…………………………………………………………17.91 ft. 5.45m
MAST HEIGHT (FROM WATERLINE)………………62' 9" 19.13m
Engine and Mechanical

In the fall of 2013, a complete professional engine survey was conducted while the boat was still in the water. This survey
3 blade fixed prop
YANMAR 4JH2HTE (76 H.P.) diesel engine

18" X 17 R.H.(457.2mm X 431.8mm)

INBOARD ENGINE………………………………….76 hp

OPTIONAL 47.3 Sacrificial Zinc installed on prop shaft, May, 2012.

Engine Oil, Fuel Filters, Impeller changed annually, 2006 to 2012.

All Records available.

Bow Thruster, SidePower 4 hp, 50 kg thrust, Original Equipment.

New Sacrificial Zinc installed May, 2012.


Water Capacity …………………………………..200 U.S. gal. 757 liters

HOLDING TANK CAPACITY………………………..50 U S gal. 189 liters

FUEL TANK CAPACITY……………………………..100 US gal. 378 liters

LPG TANK CAPACITY……………………………….10 lbs. 4.54 kg.

Flares and USCG safety equipment.
Electrical
Fischer Panda 60Hz / 6kW Marine Generator, installed May 2012.
2 - Marinco 30 amp Shore Power cords, 50' each
1 - Marinco 30 amp Shore Power pigtail, 1 male to 2 female end configuration.
1 - Marinco 50 amp Shore Power to twin 30 amp female pigtail converter / connector.
2 - Marinco 30 amp Shore Power adaptor to standard, 110v male outlet end.
High Output Balmar Alternator, 90 amp.
2 - 4D AGM House Batteries installed June, 2012
1 - 12v AGM Deep Cycle Start Battery Installed June 2012.
ELECTRICAL VOLTAGES
…………………12 V.D.C./ 110 V.A.C. BATTERY CAPACITY
………………….75 amp (1) START BATTERY 180 amp (2) HOUSE BATTERIES

Additional
This boat is a must see for any serious cruiser, or anyone who enjoys a boat that can safely and comfortably go anywhere in any weather. A great sailing boat in very good condition.

These owners plans have changed ..... a rare opportunity. Email for more pictures ...... inside and out !!