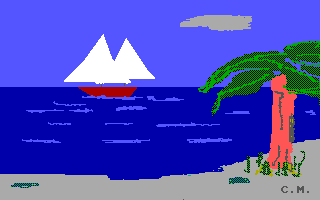 3248 Elwood Drive ........... Racine, WI 53406
262-554-1370 ................ fax 262-554-1371
In Illinois cell 847-338-8808

1999 Menger 23 Catboat
Sold - call for similar listings or to sell your boat
We are Menger and catboat specialists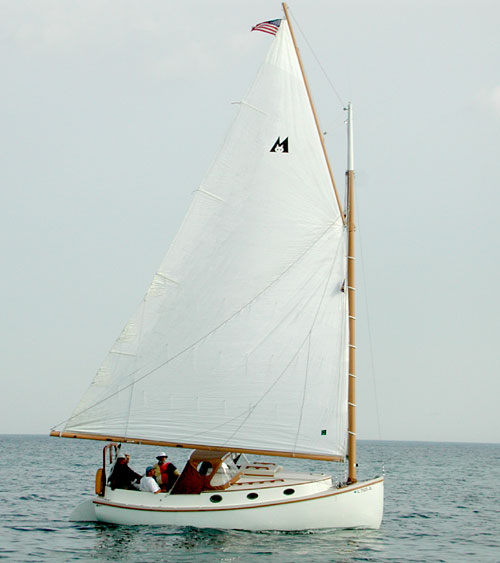 This is a rare opportunity to own a really sweet classic Downeast design. A one owner vessel, the combination of shallow draft with the centerboard, gives you option to sneak into coves and harbors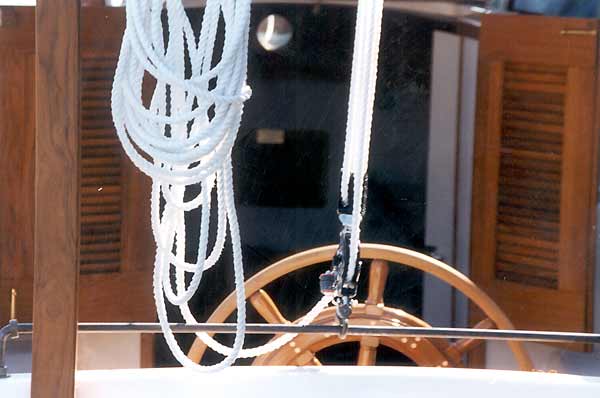 that other boats can only dream of ...... This owner worked closely with Bill Menger throughout the building process and many of the options on this boat were new ideas installed here for the first time. All of the bulleted items were factory installed *options* that were not included in the base price. There have been almost $23,000.00 of options installed by the owner. Many of the factory options designed for this boat became options for the boats that followed.
The amazingly spacious cabin features 6' 2" standing headroom,
• 6 ½" Thick Cushions instead of the standard 4"
• Recessed Two Burner Origo Alcohol Stove
• Fixed Marine Head in Lieu of Porta-Potti. Holding Tank (20 Gallons) with Y Valve
• Hot and cold Pressure Water System
• Hot Water From Engine and 110v Shore Power
• Shower in Head with Pressure Water System
The cabin interior features a forward bunk, which converts to a double bed. The quarter berth is 6' 6" long. All cushions were increased from 4" to 6.5" thick for greatly increased comfort..
The galley includes a recessed two burner Origo alcohol stove. There is a stainless steel sink with a 22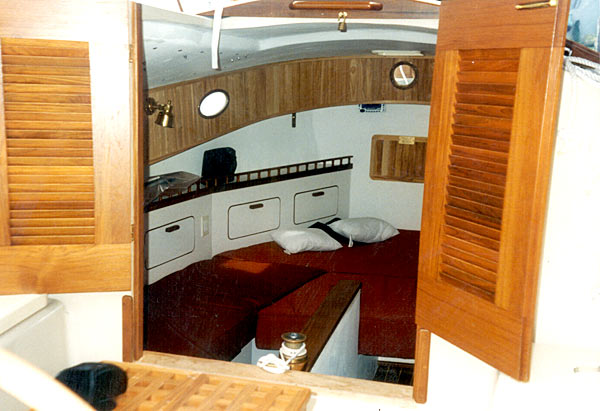 gallon tank and extendable faucet head. The head is a permanently installed marine head with a 20 gallon holding tank, sit down shower with hot and cold pressure water system, sump pump and privacy door. The generous teak edged table leaf flips up from side of centerboard trunk for dining and entertaining.
The cabin interior is highlighted with varnished ash wainscoting on the cabin sides and the front of the chain locker hatch. There is a teak and holly sole. With 6' 2" of headroom there is plenty of space down below.
A teak magazine rack was installed against bulkhead by Palmer Johnson in 2004
Features at-a-glance

LOA .................... 22' 6"

Beam .................... 10'

Draft ...................... 2' 6" board up

Draft ...................... 5' 6" board down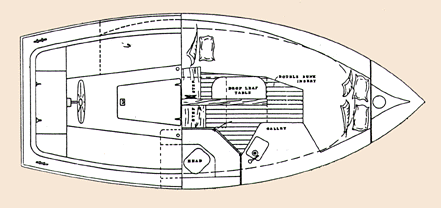 Displ ...................... 6,500 lbs.



Electronics
The owner had Palmer Johnson install Raytheon ST 6001 Auto Helm in 2004. This autopilot is commonly used in boats 40' and up, but it was decided that it was absolutely the best suited for the rack and pinion steering design on this boat. The installed cost for the custom installation was approximately $5000.00.
• Combi - Combined Knot Meter/Log/ Depth
• Ritchie 5" Compass Installed in Bulk Head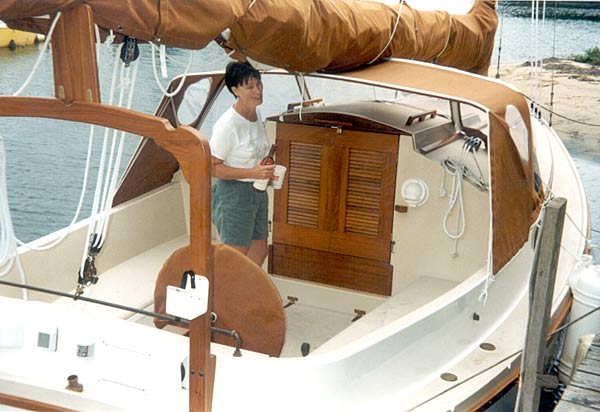 • VHF Antenna, Installed on Mast, Cable Lead to Aft End of Cabin
• Bulk Head Mounted VHF Radio
• Jenson Marine AM/FM/Tape/CD Player Mounted with (2) Speakers
Sails and Rigging
The gaff rigged sail plan on the traditional catboat design give you all the options that endeared the design to the working fisherman originally. It is easy to single hand the boat on any point of sail in any weather conditions. She handles amazing well.
All spars are painted with polyurethane (buff), tapered aluminum mast (white top), gaff and boom slotted extrusions. Gaff saddle is molded fiberglass. Stainless steel forestay and shrouds with bronze turnbuckles. Three strand Spun Dacron halyards, mainsheet, reef lines and topping lift all led to back of cabin top. Lazy jacks are adjustable fore and aft on boom. There is a flag halyard, Harken ball bearing blocks and mainsheet jam cleat.


The Dacron sail was made by Quantum and is 435 sq. ft. We have three sets of reefing points and four battens.
Deck and Hull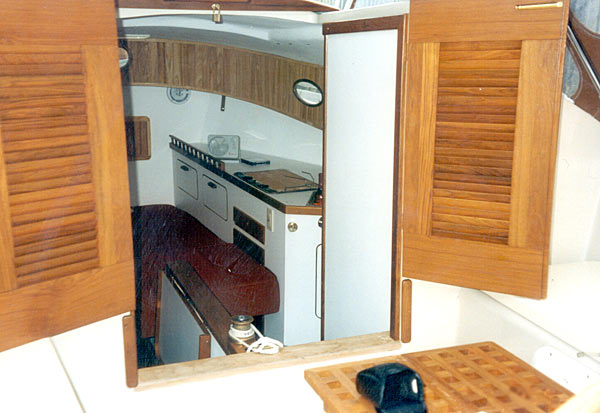 The fiberglass construction of the Menger Cat 23 is all hand laid isophthalic gel coat. There is a non-skid tan deck with white hull and a molded cockpit with lockable hatch. The molded engine box is integral with the deck, which is fiber glassed to the hull all around.
All exterior trim is solid teak, including rub rails, handrails, brow on cabin sides, hatch trim, louver companionway doors, gas grill mount, wheel box, boom gallows and boom gallows hinged vertical extension. All hardware is bronze, including three mooring cleats, chocks, six fixed ports, hatch hinges, hasps, halyard cleats, gudgeons and pintles.
This is the first Menger to be outfitted with the Edson teak wheel. The owner had a custom installation which extended the steering shaft and moved the wheel forward into the cockpit enough for the helmsman to sit comfortably behind it (facing forward) to helm the boat. This was not possible with the stock installation.
• Custom teak folding table for the cockpit.
• Sail Cover, with cut outs for Peak Halyard
• One Line Quick Reef System for Second and Third Reefs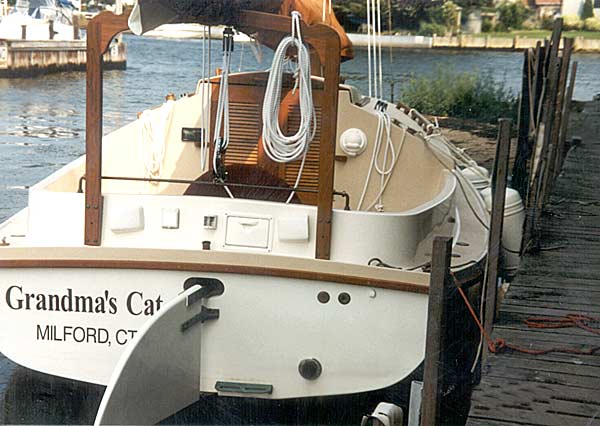 • Teak Stern Gas Grill Mounted Socket
• Danforth HTS Anchor with 200' line and 20' chain
• Delta Anchor with 200' line and 20' chain
• 30" Edison Teak Wheel
• Louvered Doors on Companion Way
• Teak Flag Pole with Flag and Bronze Deck Socket
• 20" x 30" American Flag Attached to Sail at Peak
• Installed Anchor Chocks, Bronze on Forward Deck
• Sikkens-Cetol Finish on Teak
• Molded Cockpit Cushions
• Dodger, Sail Cover and Wheel Cover
• Teak Boom Gallows with hinged vertical extension
• Rope Deck Pile Mounted in forward deck
• Opening Side Bronze Port Hole
• Hatch Mounted in Cabin Top with Slip in Screen
• Two Bronze Steps on Rudder and Transom
• Shower on Stern Coaming with Pressure Water System
Engine and Mechanical
There is a Yanmar Model 2GM20 18 HP Diesel Engine with fresh water cooling, fuel filter and water strainer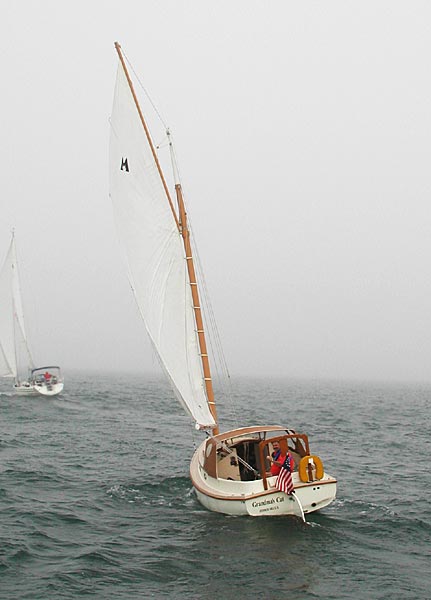 that is attached to a bronze shaft, two blade propeller on skeg bar with a stuffing box. The fiberglass diesel tank holds twenty gallons. The boat is steered by a 30" Edison Wood Wheel with rack and pinion.
• Extra Length Stainless Steel Steering Shaft
• Install Second Deep Cycle Battery
• Install Battery Charger
• Electrical Access Plug Mounted on Cockpit Side
• Rule Automatic Electric Bilge Pump
• Whale Subcompact Manual Bilge Pump
• Fresh Water Cooling System Installed on Yanmar Diesel Engine
• Shore Power – GFI outlet with (2) Outlets, 30 AMPS, Main Panel with Power Inlet
• (2) New Deep Draw Batteries - 2003
Additional
• Coast Guard Required Safety Equipment for 23' Boat
• 25 mm Flares
Safety Equipment, all manuals,
Boat stored inside for the winter under cover. Very meticulous owner.
• Jowi Custom Cradle designed just for this boat. This is a folding cradle for shipping.
• Fairhaven Custom Winter Boat Cover with Tubular Frame Work (This has been used only one season. Since then the boat has been stored inside at Palmer Johnson.)
Grandma's Cat was built over a time period of ten months in Amityville, New York. The owner viewed and photographed it all. At the time of launch the owner had all of the men working on the boat sign the inside cover of the anchor hatch cover when she was finished. She was commissioned in September 1999 and spent one season sailing Long Island Sound, at Milford Boat Works, Milford, Connecticut. In September 2000 she was transported via an air ride truck to Palmer Johnson Racine, Wisconsin Marina. They have performed all maintenance. She is stored in-doors during the winter. She has been sailed in fresh water ever since.

These owners have already picked out their new boat .... Email for more pictures ...... inside and out !!