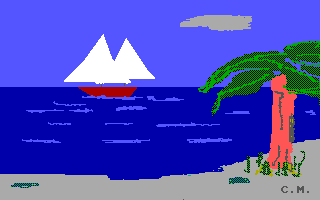 3248 Elwood Drive ........... Racine, WI 53406
262-554-1370 ................ fax 262-554-1371
In Illinois cell 847-338-8808

1983 Santa Cruz 50
Fast is fun. And if you don't believe that, you have not been sailing on a Santa Cruz 50. This is the kind of boat whose speed and responsiveness make your heart beat faster. Built by the famous Santa Cruz Yachts in California and designed by Bill Lee, the workmanship is unbeatable and the speed is unbelievable. This rare one-of-a-kind fresh water SC50 is now available.. This boat has lived her entire life within 30 miles of Chicago (with the usual very fast forays up to Mackinac Island).
The wide open interior gives the best possible combination of easy sail handling and comfortable crew accommodations. The dining table is a large centerline dropleaf which is currently in storage. The interior was also completely stripped and repainted and refurbished when the rest of the boat was painted two years ago for a clean and fresh look. All of the interiors cushions were redone at the same time. There is a great galley with gimbaled propane stove with oven and a huge icebox with Adler Barbour refrigeration There are two other large coolers with space for 10 cases of beer. There is an enclosed head.
All safety gear for Offshore category one races is included with the boat. There are two life rafts with space for 14 crew. The rafts have current certification. All Solas flares were updated in 1997. She has a carbon fiber spinnaker pole and an aluminum reaching strut. Halyards are rope to wire and were updated in 1996, running backs are Spectra.
LOA....................50' 0"
LWL....................46' 5"
Beam....................12' 0"
Draft......................8' 0"
Displacement.........16,000 lbs. approx.
Ballast .................. 8,000 lbs.
Sail Area .................1,050 sq.ft.

Electronics
Trimble GPS at the nav station and a Garmin GPS at the helm, VHF, large Ritchie compass on the binnacle and deck compass forward. There is a complete set of Signet Smartpak instrumentation which is interfaced to the GPS. The system includes the large mast mounted displays. There is currently appears to be a bad connection inside the mast. The owners feel that it is a simple problem, but also feel that when it stopped working, the boat went faster. They felt like the crew was paying too much attention to the instruments and not to the boat, so they did not fix the instruments. Alpine AM/FM cassette stereo.

Deck and Hull
The white fiberglass hull was completely professionally awlgripped two years ago. The topsides and deck were Awlgripped white. The bottom was completely taken down, faired and redone with VC17, Martec low drag folding prop (completely reworked 2 years ago), new high tech composite custom elliptical rudder installed last year, new Harken rudder bearings installed at the same time (standard SC50s did not have rudder bearings). She can carry up to 100 gallons of water in two separate tanks. One tank has been removed (but would be included with the boat) to reduce weight. She also carries 55 gallons of diesel in an aluminum tank.

Sails Inventory and Rigging
Mains: '97 North 3DL
'94 North mylar/kevlar
'91 UK tape drive
#1 Genoa '97 North 3DL
'95 North 3DL light
#2 Genoa '93 North
'91 UK tape drive
#3 Genoa '93 North
#4 Genoa '95 North
Dazy Staysail North
Spinnakers '97 North .6 A/P
'94 North .6 Reacher
'97 North .8 A/P
'95 North 1.5
'94 UK Asymmetrical
Storm Trysail North
Storm Jib North
She has the standard two spreader SC 50 rig. There are others on the market with a smaller rig and sail area. Carbon fiber spinnaker pole, reaching strut, tons of snatch blocks, winch handles. Everything you need to lead the pack. There is also a number of other "delivery" sails that go with the boat, a main, number of genoas of different sizes and several spinnakers.

Race Record
1992 Waukegan-Chicago FIRST
Chicago-Michigan City FIRST IN FLEET
Chicago-St. Joe FIRST IN FLEET

1993 Waukegan-Chicago FIRST
Chicago-Michigan City FIRST IN FLEET
Michigan City - Chicago FIRST IN FLEET
Chicago -Mackinac FIRST
Chicago - St. Joe FIRST
Michigan City - Chicago FIRST

1994 Michigan City - Chicago SECOND
Great Lakes - Chicago FIRST
Chicago - St. Joe SECOND
St. Joe - Michigan City FIRST
Michigan City - Chicago FIRST

1995 Michigan City - Chicago SECOND
Queen's Cup FIRST IN FLEET
Great Lakes - Chicago FIRST
St. Joe - Michigan City FIRST
Michigan City - Chicago FIRST
PHRF Offshore Champ FIRST OVERALL

1996 Port Huron - Mackinac FIRST IN FLEET
Chicago - Great Lakes FIRST
Michigan City - Chicago FIRST

1997 Chicago - Michigan City FIRST
Michigan City - Chicago FIRST

Engine
IB FWC 50 HP 4 cylinder Pathfinder diesel, fuel filters, Weems & Plath AutoMac alternator control. Three oversized deep-cycle batteries, shore power with automatic charge.

She has here own set of custom jack stands instead of a cradle, which can easily be shipped anywhere.

Since the current owners are getting out of boating to spend more time with their grandchildren, all the extras will go with the boat.

Asking Price $175,900.00 . . . . . . . . . . . . . . . Located in Michigan

Full interior and exterior pictures available on request.

Make an offer. The boat is ready to go...... are you?


Go to Jan Guthrie Yacht Brokerage Home Page

For pricing and more information contact Jan Guthrie Yacht Brokerage


This page last updated on January 2, 1999